Catering &
Events
Award Winning Chefs
Serving San Diego, Orange County & Los Angeles
Sushi | Coastal Cuisine
Pickled Ginger Catering specializes in sushi and coastal cuisine. Our catering service is provided by a successful team of professionals with a true connection and love for food. Our chefs have decades of experience creating menu offerings that are as beautifully presented as they are delicious. We make it a point to utilize the most sustainable products available and offer plant based alternatives to our traditional menu items. We provide on-site preparation or delivery in San Diego, Orange County & Los Angeles.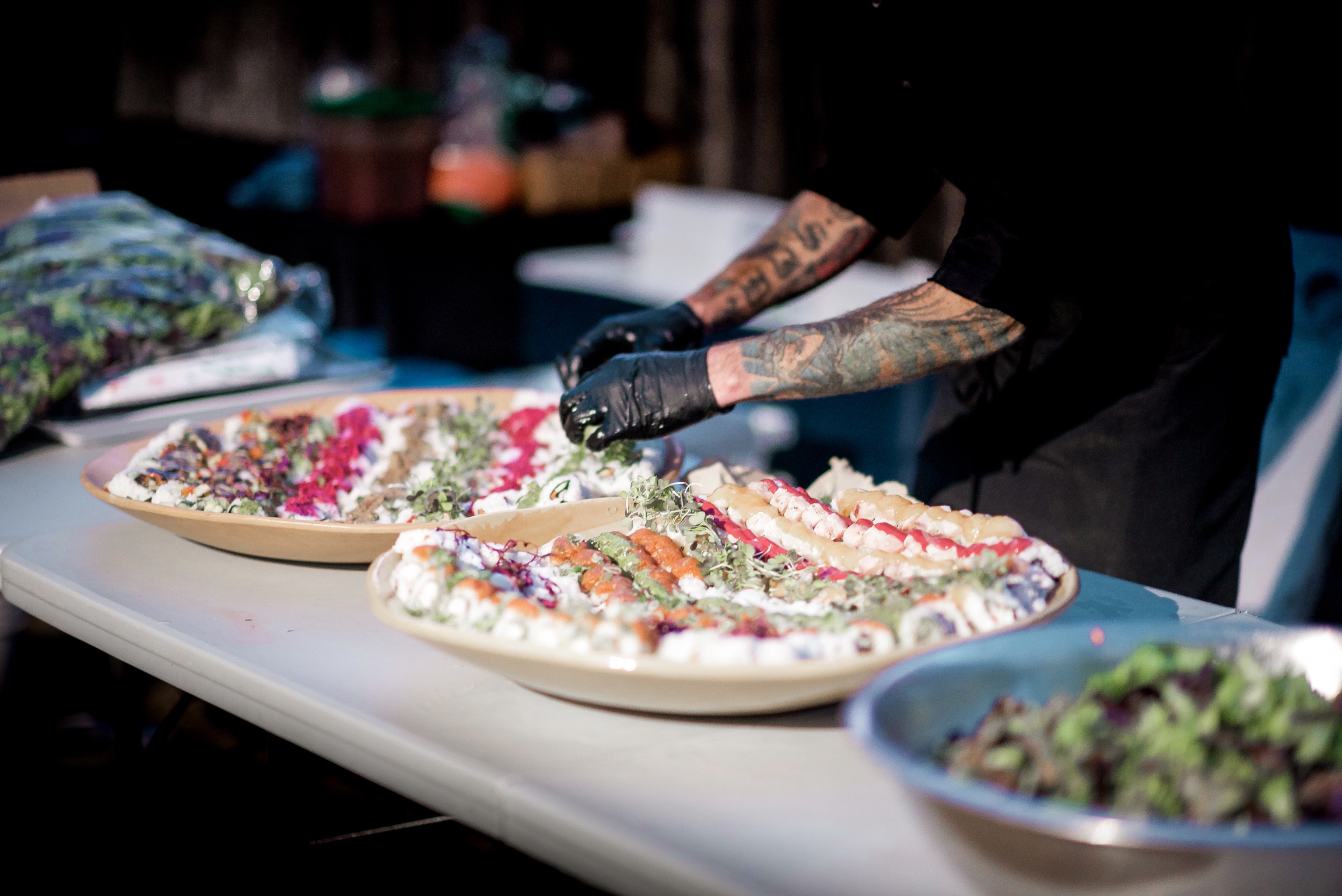 We all get that pickled ginger is a nod to the traditional sushi accoutrement, but it is also a nod to the exuberant pasts of our two favorite gingers, Chefs Davin & Loren Waite.
These unorthodox culinary adventurers have dreamed up a catering menu that really rocks the boat. If you're looking for superior sushi with local roots, a sustainable flare, and the freshest flavors this side of the Pacific. We totally got you! And be prepared, you just might get hooked!
MENU
DAVIN WAITE
EXECUTIVE CHEF
Loren Waite is an energetic chef with a wicked sense of humor who is passionate about surfing, cooking, and hand-crafted knives. He likes to tinker with things; he is a fixer and enjoys a challenge, be it repairing an old moped or finding a new application for a novel ingredient. Loren is the Chef de Cuisine at Wrench & Rodent Seabasstropub, a playfully irreverent seafood-centric restaurant that features responsibly sourced fish and veggies.
Chef Loren learned how to roll sushi from his brother Davin before leaving his hometown of Oceanside, CA for a short stint at UC Santa Cruz. Once back in North County, Loren embraced a lifestyle of surf, tattoo art, and fishing; the creative and high-energy outlet of chef life was a natural choice. Loren co-founded The Fish Joint with his brother in Oceanside in 2004, and the two helmed a punk-rock sushi bar pairing the freshest local fish with flavors that were ahead of their time. After leaving the Fish Joint in 2012 Loren founded The Sushi Bus, a mobile sushi service that catered to the bourgeoning craft beer scene in San Diego County. In 2013 Loren partnered on the launch of Wrench & Rodent, and in 2016 joined the Wrench team full-time as Chef de Cuisine. Loren now balances his career as a chef with the joys of being a new dad, and happily embraces the challenges and rewards of both.
Davin Waite began his career as a sushi chef at Ichiban in Santa Barbara under the instruction of Chef Hiro, a local legend and master of sushi as well as French and Italian Cuisine. Back in North San Diego County Davin continued on to Cafe Japengo, and in 2003 he returned to his hometown of Oceanside to co-found The Fish Joint. With his next project Davin created a restaurant in his own image; scrappy, irreverent and constantly pushing boundaries. Wrench & Rodent Seabasstropub began as a pop-up but quickly became a destination for those who appreciated Waite's creative and delicious approach to minimizing waste and celebrating local and sustainably sourced products.
Waite aims to stay in a state of consistent innovation and creation in order to teach and inspire. Davin has taught sustainable cooking techniques to elementary students, culinary students and city officials. He has spoken on panels on topics including using underutilized species and sourcing from local farmers. In 2017 Davin was a keynote speaker at the California Resource and Recovery Conference, where he broke down a whole fish on stage to demonstrate how each part can be used to make delicious menu items, down to the ribs, skin and marrow. Waite's menus reflect his values as he continues to evolve as a chef and as an advocate.
LOREN WAITE
CHEF DE CUISINE, PARTNER